The film Judas and the Black Messiah chronicles the journey of Black Panther Party Illinois Chapter Chairman Fred Hampton as the CIA infiltrates the party to gather information on their fearless leader. Warner Bros. Post Production Sound talent, supervising sound editor Rich Bologna and re-recording mixer Skip Lievsay recount their experiences working with director Shaka King on bringing the film to fruition.
Bologna joined the project in March of 2020, the very same week of the country-wide lockdowns due to the Covid-19 virus outbreak. This postponed the film's release date until the following year, giving the team more time to work on the project. Time, though, was necessary, as the sound team had to hop over technical hurdles, with Bologna remarking that "things that would take three seconds took three hours." While their patience was surely tested, they were successful in "giving [the picture team] a lot, early, so there weren't any surprises."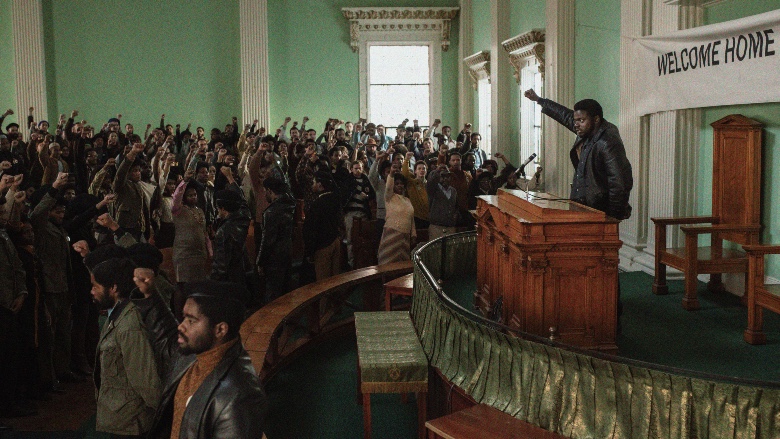 Lievsay jumped on the project later, adding a fresh set of ears to the mixing team. One struggle that the pair faced together was the use of archival footage in the film. Lievsay noted that "generally, the sound that comes with archival footage is pretty poor," which meant that "it required a lot of manipulation and filtering to get that stuff to seem uniform and smooth," unlike the original sound of the footage, which might evoke the atmosphere of the time period. He shared a piece of sound-mixing wisdom, calling upon the public to "remember that the world has always sounded super high fidelity, super clear, it's just that we haven't been able to reproduce it until now," emphasizing his distaste for trying to make footage "sound old." Bologna throws in the philosophy that "it's really about staying out of the way of the performers. [Sound editors] can embellish, but the performance is what matters."
This philosophy is best exemplified in the epic "I Am a Revolutionary" scene, involving Hampton powerfully delivering a speech after his release from prison. Lievsay applauds the "real performances with real crowd reactions," most of the audio coming from location. The mixers' result was "supercharged," leaving the director speechless, able to omit only the word "Wow," a single word which abridges the volumes which could be used to describe the talent of Lievsay, Bologna, and the entire Judas and the Black Messiah team.
This blog post was written by our WBSO Reach Intern – Zoe Jaeger.